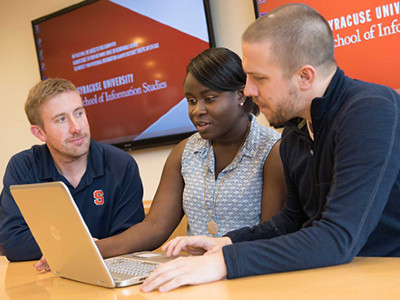 iSchool Launches Online Information Management and Technology Undergraduate Program
STEM
Beginning in fall 2021, students will have the opportunity to earn a bachelor's degree in information management and technology online through the School of Information Studies (iSchool). The new online program allows students seeking a part-time degree to have access to the same education as full-time, on-campus students.
The program focuses on developing essential skills for a career in information technology. Students will explore important topics like cybersecurity, machine learning, AI and cloud computing while expanding their skills in leadership, project management and business. Upon graduation, students will also have an extensive knowledge of data science and information systems.
"We've seen increased demand for this type of program over the past few years," says Bruce Kingma, director of undergraduate programs at the iSchool. "We want to welcome as many different types of students as possible to the iSchool, and the addition of this flexible online program will help us do that."
Students from various backgrounds and levels of education are invited to apply for the program. Up to 90 transfer credits from community colleges or other universities can be accepted but they are not required to enroll. The program offers options to combine online and in-person classes depending on the student's schedule and preferences.
For more information about the program and instructions on how to apply, visit the website or contact one of our advisors at [email protected]