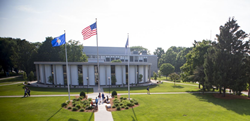 Sextant Marketing, Marian University Expand Partnership on Marian Forward Initiative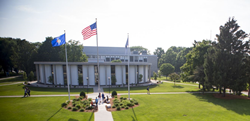 Sextant has an extensive history of increasing enrollment for the institutions it partners with. – Dr. Michelle Majewski, Marian University President

TAMPA, Fla. (PRWEB)
September 02, 2021
Sextant Marketing, a higher education marketing agency, is excited to announce an expanded partnership with Marian University in Wisconsin, a private Catholic university.
Called Marian Forward, the new initiative expands the services Sextant performs for Marian University and builds on the success they've achieved together over the past two years.
Marian chose Sextant's unbundled approach that facilitates success through close partnership because the team at Sextant Marketing has continually developed a deep understanding of the university's needs, values, and student population. The new services include additional marketing, university branding, and research services, as well as full-service enrollment management and advising call center services. The teams at both Marian University and Sextant Marketing look forward to seeing the results of the expanded partnership.
"Sextant has an extensive history of increasing enrollment for the institutions it partners with and their previous work with Marian University makes them uniquely qualified for the projects we'll be working on together," said Dr. Michelle Majewski, Marian University president. "Sextant is a national leader in marketing undergraduate and graduate degree offerings, and with their deep understanding of secondary education, the Sextant team will be the ideal partner to help elevate and promote Marian University."
The partnership between the higher education marketing firm and the University began in late 2019, focusing on strategies that increase college enrollment including SEO services, content creation, and media strategy and buying. The University and Sextant have achieved great success working together on a project-based model. Marian Forward now moves beyond that model, with all Sextant services now offered to Marian under one set price rather than per project.
Julie Walbrun, Director of Client Services at Sextant Marketing, said, "Sextant and Marian have worked closely together on multiple projects with the university sharing important information about student data, policies and procedures, and the university's goals and barriers to achieving them."
Sextant and Marian focused on the redevelopment of the University's website; a project that started in early 2021. Sextant worked with a team of experts from the University to develop the new site, which includes a robust redesign, rewritten copy, and work on the "backend" of the system. This includes improvements in lead routing technology, lead form functionality, and integration with Recruit, the Marian University student information system
"Because Sextant understands Marian at a deep level, the Marian Forward integration is an opportunity to take our partnership to new heights of engagement as we add call center services to support prospective students moving through the application and enrollment process," said Walbrun.
"From faculty subject matter experts collaborating on blog content to the admissions team offering insights that improve advertising campaigns, this is the type of partnership where the end result is powerful because we all work together toward a common goal," said Julie. "Sextant encourages high involvement from our clients, and those who buy into this strategy see the most success. Marian Forward will continue to build on this success as we open a new chapter full of potential, enabling both teams to work on even bigger umbrella strategies to grow enrollments."
Share article on social media or email: